Some of our products that are currently out of stock may have an Advanced Order option available.
This means that we've been able to secure additional stock for a product and can dispatch this to you at a later date.
If an item is available on Advanced Order, you will be able to see this on the product description page on our website. This will include the expected shipping date for the product (as shown below).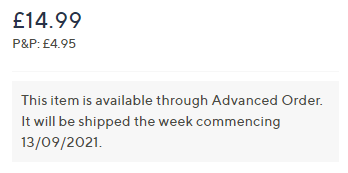 When ordering an item on Advanced Order, your payment card will not be charged until the item is dispatched, however, products can arrive earlier than the expected shipment date.
When placing an Advanced Order for plants, to ensure that these are of the highest quality upon delivery, the expected delivery date for the product may change. As the level of growth in plants can be affected by weather conditions, we closely monitor each product to ensure that, when it is delivered to you, it is of the high quality that you've come to expect.
If there any changes to the expected delivery date of an order, we will keep you updated.
Did you find this page useful?