Do I have to pay to return an item?
Yes, you are responsible for the cost of your return unless the item is faulty, damaged or incorrect in which case QVC will reimburse all your postage costs.
If your collection has been arranged by QVC Customer Care as your item is faulty or incorrect, please allow 5-7 working days for your parcel to be collected. Once we have arranged a collection you will receive a letter to your home address which includes a barcode to affix to your parcel (Please see instructions below). Please have your parcel ready once the barcode has been received as the courier can arrive as soon as the next working day.
The Evri courier will attempt to collect your parcel up to 3 times within 5-7 working days, this will usually take place on consecutive days.
Please note: If your parcel is being collected directly from one of our vendors, please allow a few extra days for a courier to call to collect it.
Barcode example below:
* Carefully cut around the dotted lines.
* Attach to the outside of your parcel, ensuring the barcode is visible and clear for scanning.
* Please cover any other barcodes that may be on the packaging so the courier can identify this one for your return.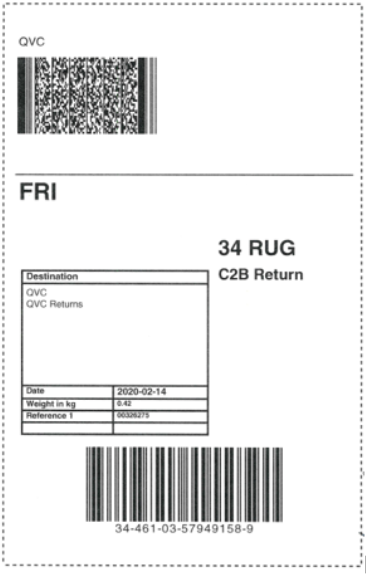 Did you find this page useful?